I came across this project some months ago and while I quite like the idea of 'connecting the world 1 library at a time' I have never felt inspired enough to see if we wanted to do anything. Until now that is, when I found this video on the project
site
.
Since 2004, libraries across the world have organized events about freedom and issues that matter to their communities during the month of September. This grassroots project favors free over fee, public over private, and voices over silence.
Looking at the map of past and planned events, the project is definitely Americentric, and the September 11 date is not subtle. I thought at first it really wasn't for us... until I saw the video and I've been thinking that maybe it is.
September Project events explore and exercise freedom, justice, democracy, and community and include book displays, community book readings, childrens' art projects, film screenings, theatrical performances, civic deliberations, voter registrations, gardens, murals, panel discussions, and puppet shows. September Project events are free and open to the public.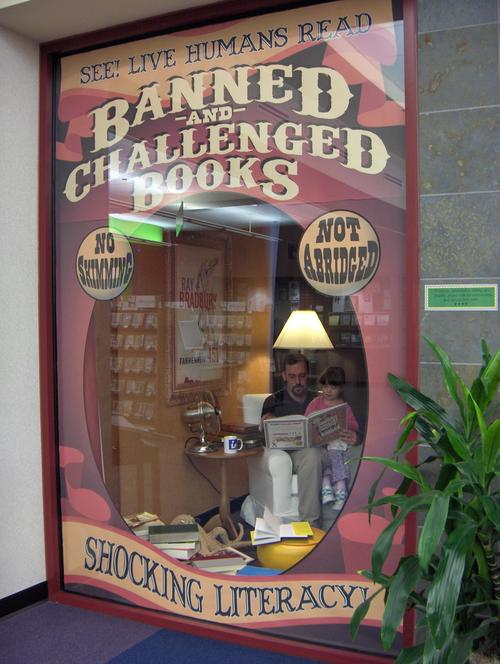 A couple of possibilities of themes which we could promote here in Horowhenua are:
celebrate individuals and groups who foster and support community spirit and wellbeing,
celebrate Kete, our community built library of local digital content,
Celebrate Kete and Koha, as tangible results of our believe and commitment to open source and open standards.
promote the role of libraries in an open society in terms of equity of access to information.
Planned September projects can be found on the project website and are incredibly diverse, including:
Customer appreciation day where library staff bake cookies and brownies for library users,
a live review and discussion of the book Extremely Loud & Incredibly Close, one of the first novels relating to the September 11, 2001 terrorist attacks,
a storyteller will present tales of peace, justice, and humor from the Islamic World,
celebrating local or ordinary heroes,
"What I'd like the world to read" where patrons submit a short video, audio or Power Point presentation on any book they choose,
defend anti-censorship in libraries principles by promoting previously banned books.

This
post
considers what makes an interesting September Project event. While there are no set templates, some of the most interesting past projects capture the surrounding culture and history of the region.